What is the best app to learn Korean?
Check out the Learn Korean! Fast! iPhone application - how I learned the alphabet, started connecting the letters, improved my reading speed, and started to memorize words and phrases. Let me know what you think!
Discover how you learn best.
I built this app on learning Korean. I got good feedback and I've been adding more features and content since it launched:
I introduced features where anyone with an iPhone could learn Korean - automating the pain in creating a learning plan, helping you with repetition, and allowing you to learn in various ways such as listening, tracing, free-style drawing, and typing.
We've helped some people learn more Korean. Hearing from our users is very exciting!
Some testimonials sent in anonymously
I like this app because I can learn Korean more easily
I wanted so long to learn Korean and go to Korea!
This app should have tests after each lesson, or a quiz
Response: we're working on it!
I really like the repetition of writing the characters
I love this app so much five stars
Teach me more words
Response: we're working on it!
But what happens when you've mastered the fundamentals?
What do you do once you've learned the alphabet, you can sound out the characters, even read words in Korean?

I wanted to learn more and more people wanted to learn more words.

I knew we all could learn more so we added more content and repittion so we could all learn together.
Signs you're ready to use Learn Korean! Fast! app:
3) You've tried multiple other resources

2) You're dedicated to putting in the and effort it takes to learn a new language

1) You're always asking, "what's next?"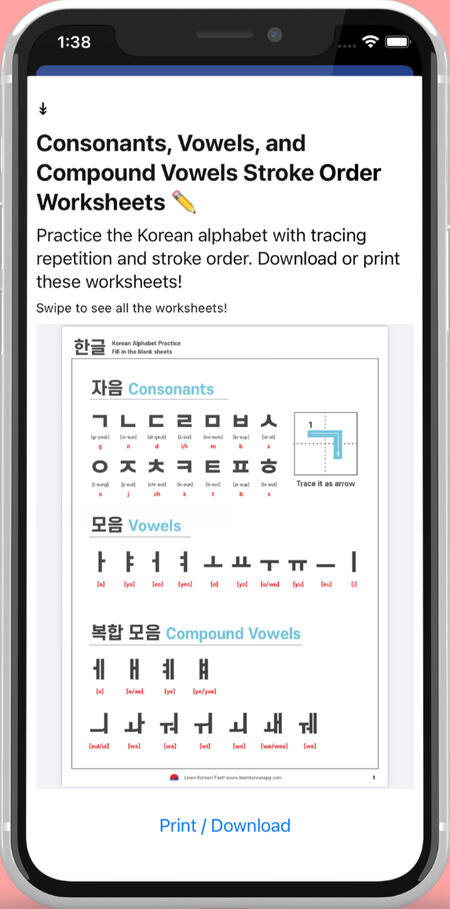 Q&A:

How can I learn Korean for free?
Learn Korean! Fast! has free content that can help you learn Korean using different senses.

How long does it take to learn Korean?
This varies on how much you want to learn. I hope to help you become conversational in general topics and build from there. Using words you already know to begin and then building more vocabulary from there.
---
What we are building now
We love feedback so tell us what you'd like to see in the app. Here is what we've heard and what we plan to build
---
this page (12/29/2020)
dark mode (coming soon)
mini games (coming soon)
spaced repetition (coming soon)
journeys (coming soon)
app launch (12/23/2020)
machine learning draw (12/23/2020)
tracing, typing (12/23/2020)
live Korean cooking classes (collecting feedback)
live Korean workout classes (collecting feedback)
Learn Korean While Browsing The Web!
If it's your first time using this, search for "h e l l o" using your favorite search engine and see what happens!

This is a brand new feature and we support 4 words at this time. Contact us and let us know which words you want us to add!

H e l l o
Y e s
N o
H e l p
Learn Korean App Widget
How to add the widget
1) Swipe all the way to the left to get to the Today Extension screen
2) Tap and Hold an existing widget and tap Edit Home Screen (as shown in video)
OR
Scroll to the bottom of the page and tap Edit
3) Tap the + at the top left of the screen
4) Find the Learn Korean Widget
5) Pick which size widget you want
6) Tap Add Widget
7) Tap, Hold, Drag and place the widget where you want on your home screen!
Privacy Policy:

This policy applies to all information collected or submitted on this website and our apps for iPhone and any other devices and platforms.

Information we collect:

We don't collect any personal information. There is no login and all your data is kept on your device. If you decide optionally to submit feedback to us, we may use a third party to route that feedback to us using as little personally identifying data as possible.

Technical basics

If you enable notifications, we must store a token to send them. We never use notifications for marketing.

We use cookies on the site and may use similar tokens in the app to keep you logged in.

Our server software may also store basic technical information, such as your IP address, in temporary memory or logs.

iCloud

The apps linked to from this page stores some of your data in Apple's iCloud service, such as your progress within the app.

Ads and analytics

Learn Korean app collects aggregate, anonymous statistics, such as the percentage of users who use particular features, to improve the app.

Information usage

We use the information we collect to operate and improve our website, apps, and customer support.

We do not share personal information with outside parties except to the extent necessary to accomplish the app's core functionality. We may share anonymous, aggregate statistics with outside parties.

We may disclose your information in response to subpoenas, court orders, or other legal requirements; to exercise our legal rights or defend against legal claims; to investigate, prevent, or take action regarding illegal activities, suspected fraud or abuse, violations of our policies; or to protect our rights and property.

In the future, we may sell to, buy, merge with, or partner with other businesses. In such transactions, user information may be among the transferred assets.

Security

We implement a variety of security measures to help keep your information secure. For instance, all communication with the app and website requires HTTPS with certificate pinning. Passwords is used are hashed, not stored, using industry-standard methods.

Accessing, changing, or deleting information

You may access or change your information or delete your account from within the app if an account service is offered.

Deleted information may be kept in backups for up to 90 days. Backups are encrypted and are only accessed if needed for disaster recovery.

We may delete your information at any time and for any reason, such as technical needs, legal concerns, abuse prevention, removal of idle accounts, data loss, or any other reason.

Third-party links and content

Learn Korean app displays links and content from third-party sites. These have their own independent privacy policies, and we have no responsibility or liability for their content or activities.

California Online Privacy Protection Act Compliance

We comply with the California Online Privacy Protection Act. We therefore will not distribute your personal information to outside parties without your consent.

Children's Online Privacy Protection Act Compliance

We never collect or maintain information at our website from those we actually know are under 13, and no part of our website is structured to attract anyone under 13.

Information for European Union Customers

By using Learn Korean app and providing your information, you authorize us to collect, use, and store your information outside of the European Union.

International Transfers of Information

Information may be processed, stored, and used outside of the country in which you are located. Data privacy laws vary across jurisdictions, and different laws may be applicable to your data depending on where it is processed, stored, or used.

Your Consent

By using our site or apps, you consent to our privacy policy.